Dr. Ian Pun, a Toronto OSCAR EMR user, ran a FREE mini educational conference for over 40 OSCAR EMR users at the Toronto Public Library on Thursday, July 20, 2017 from 6-10 pm beginning with a free Chinese dinner provided by sponsors.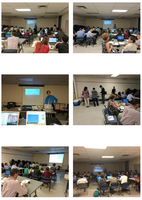 There were over 40 people attending, including GP's, some specialists – rheumatology, cardiologist, G.I. and psychiatrist.  and a handful of IT support (FHO QA) and even our long time supporter Earl Wertheimer coming all the way from Montreal.
Some doctors were interested in maintaining their own OSCAR server without OSP support.
Dr. Pun talked about templates, eforms, report by template, measurements , and gave a RbT (Report by Template) that searches keywords in the eChart. He also showed his Raspberry Pi temperature logger.  Finally, he gave the pointer that you should hashtag # important keywords in your eChart for easy searching.
Other topics discussed included computer security ( poodle SSL vulnerability ) and he tested his own hospital portal – (and it was vulnerable — LOL!!)  But of course , our own OSCAR server was patched and safe!
Many attendees were already asking for the next meeting!